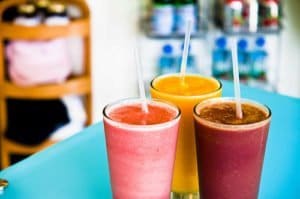 Braces start to feel like a normal part of your mouth pretty quickly. However, when they're first put on or adjusted, you may have some pain. So we've compiled some ideas for relieving that pain.
Cold drinks. Ice-cold water, slushies, and smoothies will temporarily numb your mouth and take away most of the pain. Just be careful not to have too many sugary drinks, since they damage your teeth. Ice water is a great option because it's also healthy!
Cold foods. Ice cream, frozen yogurt, and popsicles can also relieve pain and provide a sweet treat in the process. Of course, maintain healthy eating habits–we're not endorsing ice cream for breakfast, lunch, and dinner!
You can use ice packs on the outside of your jaw to relieve some pain.
Warm compresses. Just like ice packs on the jaw help with pain, warming pads or warm washcloths often relieve soreness. But be careful not to burn yourself!
Soft foods. While your teeth are sore, you'll want to stick to really soft foods–soups, pasta, soft vegetables. If your mouth is really sore and you can't stand to chew at all, consider pureeing your food.
Pain medication. Over-the-counter medicines like ibuprofen or tylenol can relieve your soreness. However, try to use pills in combination with the other methods, being careful not to take more than the suggested doses at the prescribed times.
Distractions. Although it won't always work, the soreness is often mild enough that a simple distraction can keep your mind off it. Try going out to visit a new place or watching a movie with your family or friends. The less you think about the pain, the less you'll feel it.
While your teeth are sore, be sure to maintain healthy brushing habits. Use a soft-bristle brush carefully, but don't stop brushing–even a few days without brushing can stain your teeth or start cavities.
Any pain you feel from the braces should go away in a few days. Just remember that soreness means your teeth are moving like they should!
Photo Credit:khawkins04 via Compfight cc